Scaleface was with a group of Morlocks whom had survived the Mutant Massacre. X-Factor saved them and allowed them to stay at their complex. When Berzerker decided to leave, she relunctantly followed him. Scaleface was later shot by a police man as he thought that she was trying to attack him.
Resurrections
She was among the dead mutants gathered by the Black Talon and then raised to life by him into existence as a zombie, becoming a member of his Unliving X-Humed. They were defeated by She-Hulk and her body was given a proper burial.
Scaleface was revived once again as a zombie, this time powered through the techno-organic virus implanted by Eli Bard, and sent to attack the X-Men on Utopia by Selene alongside Berserker.
Television History
X-Men: The Animated Series
Scaleface appeared along with the other Morlocks in the X-Men episode "Captive Hearts." She reappears in the episode "Out From the Past".
X-Men: Evolution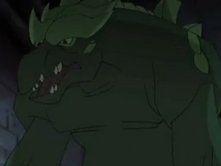 Scaleface briefly appeared in the X-Men: Evolution animated series in the episode "X-Treme Measures". To keep the Morlock base a secret, she cornered Berzerker and paralyzed him, after he begs her to "let him go".