Main antagonist and final boss of arcade game Arabian Fight released by Sega in 1992.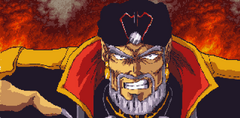 Story
The corrupt Sheikh Sazabiss has abducted Princess Lurana, and he is utilizing every unscrupulous means of power he has at his disposal to achieve his ultimate ambition of conquering the world. The quartet of valiant and fearless warriors bravely come face-to-face with Sazabiss. As they battle to save Lurana, the foursome, freely using magic, their most prized possession, journey to the castle of Sazabiss to save the princess and the planet.
Abilities
High level of magic spells (magic blasts, magic wave cutting). Martial arts (slide, jump with mini-earthquake, attack in melee).