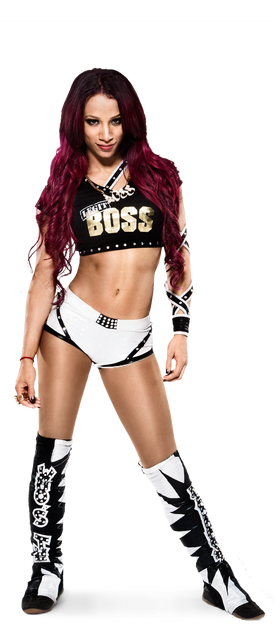 Sasha Banks is a WWE Diva who serves as a villainess on the NXT program.
Sasha debuted in January 2013, but within months, she was pressured by Summer Rae to "get it together" after Sasha confronted Summer over the way she had been bullying Emma. After being told by Summer to make a name for herself in her match against Paige, Sasha competed in a losing effort to the then-reigning NXT Women's Champion. After the match ended, Sasha made her villainous transformation by attacking Paige in the ring, and left the ring contented and proud of her actions. 
After her heel turn, the evil Sasha debuted a new blinged-up look and referred to herself as "The BOSS of NXT." She served mostly as Summer Rae's partner in crime as they feuded with Divas such as Paige, Emma, and Bayley, with the duo referring to themselves as the Beautiful Fierce Females, or "BFFs" for short. The duo became a trio when Charlotte became a villainess and turned against Bayley during a tag team match against Sasha and Summer.
Since Summer Rae was called up to WWE's main roster, Sasha mostly served as a villainous henchwoman of sorts to Charlotte. However, once the BFFs split up, Sasha became jealous of Charlotte's success and even decided to attack Bayley after Charlotte defeated her to retain her title. Sasha continued to bully Bayley after the event, and even managed to talk Becky Lynch into aligning with her.
As a villainess, Sasha is arrogant, cocky, and acts as a bully to the other NXT Divas. She also loves to stand out, hence her blinged-up attire.
Gallery