✔



Click To Help Dr. Wily!

Dr. Wily has declared that this article is still under construction.
Please don't delete or edit this article yet, it may contrast with the original author's edits.
After I finish this article, the world will be mine! MWAHAHAHAHA!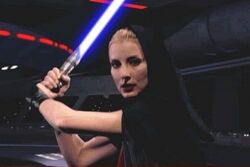 Sariss, aka the Prophetess, is one of the 7 Dark Jedi antagonists of Jedi Knight. She aids Jerec in his quest to find the Valley of the Jedi.
Overview
Born the daughter of Imperial Warlord Cronal, Sariss was trained in the ways of the Force by the Prophets of the Dark Side on Dromund Kaas. As she grew up, she became an apprentice to Inquisitor Jerec, who completed her training as a Dark Jedi. She was one of Jerec's most loyal followers.
Sariss was played by Valerie Wildman in Star Wars: Jedi Knight: Dark Forces II and by an uncredited extra in Star Wars: Episode IV: A New Hope as the Prophetess.
Trivia
In the non-canonical ending of Star Wars: Jedi Knight: Dark Forces II, where Kyle chooses the dark side, he kills Yun instead of Sariss, and she later appears as Emperor Katarn's aide.
William C. Dietz and Dave Dorman, in their novella Dark Forces: Jedi Knight, add a further dimension to the relationship between Sariss and Yun. They reveal that she considered Yun a very good and talented student, and also that he was the closest thing to a friend she ever had. In the novella, Yun's block superficially injures her in the arm.
In the audio version of Dark Forces: Jedi Knight, Sariss deliberately kills Yun when he tries to stop her. She shows no remorse in Yun's death which enrages Kyle leading him to kill her.
The figure of the 'Prophetess' was initially only an uncredited extra appearing for a second in A New Hope. Afterwards, that figure's backstory as the "Prophetess" was created for the Star Wars Customizable Card Game. Abel G. Peña, in his The Dark Forces Saga articles, retconned the Prophetess and Sariss into the same character. An unidentified illustration for a Dark Side Adept in Threats of the Galaxy matched the appearance of a lightsaber-wielding Prophetess.