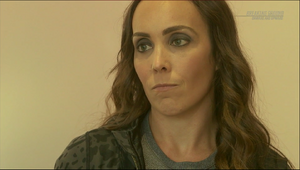 Sara Del Rey
is a retired professional wrestler and a current trainer in WWE. She is best known for her career as a member of the SHIMMER Women Athletes roster, where she was the first ever SHIMMER Champion. Originally a babyface (protagonist) en route to winning the SHIMMER Championship, Sara became a villainess after her reign ended, and competed as a heel for the rest of her career.
History
Sara's SHIMMER debut came at their first show in 2005, which saw her compete to a time-limit draw against Mercedes Martinez. Sara racked up countless wins in future shows and was entered into the SHIMMER Championship Tournament in 2007, where she defeated Cindy Rogers, Alicia, and Lacey to become the first ever SHIMMER Champion. Sara's title reign lasted 326 days, ending at Volume 18 when she lost the title to MsChif.
Sara turned into a villainess when she attacked Ariel after she eliminated her from a #1 Contender's Battle Royal. She later defeated Ariel at Volume 19, and then picked up back-to-back wins against Serena Deeb. She later aligned with Amazing Kong and attempted to pursue the SHIMMER Tag Team Championship, but came up short against champions Ashley Lane and Nevaeh. After Sara defeated Courtney Rush, the two formed an unlikely partnership that resulted in the duo capturing the SHIMMER Tag Team Championship on March 18, 2012, making Sara the first woman to hold the SHIMMER Championship and the SHIMMER Tag Team Championship.
At NCW Femmes Fatales IX on July 7, Sara and Courtney competed in a title rematch against the former champions, The Canadian NINJAs (Portia Perez and Nicole Matthews). Before the match started, Sara stated to Courtney that she didn't want to be her partner anymore and was willing to hand the titles to the NINJAs, but Courtney refused. During their match, the evil Sara abandoned Courtney and gave a queen wave to her as she left, allowing the NINJAs to defeat Courtney to win the titles. Later in the event, Sara unsuccessfully challenged Kalamity for the NCW Femmes Fatales Championship.
Less than two weeks later on July 20, Sara appeared at Shine Wrestling's inaugural show and competed in their first main event:  a highly anticipated match against former WWE Women's Champion Jazz. Sara portrayed an arrogant villainess at the event and was defeated by Jazz. In September of 2012, Sara Del Rey joined WWE as a trainer in NXT, and was promoted to assistant head coach in May of 2015.
Personality
Sara was portrayed as an arrogant, no-nonsense heel who showed off her strength and delivered vicious brutality to her opponents.