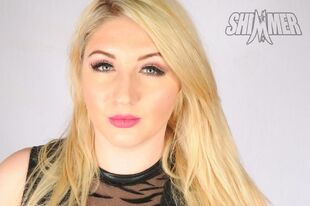 Sammi Baynz is a villainous professional wrestler competing in the UK's Bellatrix promotion, formerly known as the World Association of Women's Wrestling (WAWW).
Sammi Baynz first appeared for Bellatrix in October 2013, doing so at the Bellatrix vs SHIMMER event. She debuted as Liberty's challenger for the RQW European Championship, which was a last second change to the card; Liberty was originally supposed to challenge Courtney Rush for the Bellatrix World Championship. At the event, Sammi defeated Liberty after Courtney turned heel and sucker-punched Liberty during the match, giving Sammi the European title. After her victory, Sammi engaged in a feud with Blue Nikita after she cheated her way to successfully retaining her title at Bellatrix 8. The two fought each other at Bellatrix 9 and 10 in a Hardcore Street Fight and a cage match, respectively. Their Bellatrix 9 match ended in a draw, but Sammi defeated Blue Nikita at Bellatrix 10.
Sammi's feud with Liberty was resurrected at Bellatrix 11 on December 13, 2014, when Liberty defeated Sammi in a Champion vs Champion match. At Bellatrix 12 on February 22, 2015, Sammi participated in the four-woman Ultimate Champions Tournament, where the winner would receive a contract to appear for SHIMMER Women Athletes. She defeated Lady Lory to advance to the finals, where she again faced Liberty. In the final match, Sammi and Liberty competed to a time limit draw, and then competed to a draw again when they were given extra time. As a result, both women were awarded SHIMMER contracts.
Sammi's SHIMMER appearance came during the promotion's 10th Anniversary Weekend on October 10–11, 2015. A week prior, Sammi made her debut at the Florida-based Shine Wrestling promotion at SHINE 30, teaming with Rhia O'Reilly in a losing effort against The Lucha Sisters (Mia Yim and Leva Bates).
Sammi is portrayed as an arrogant heel, as well as a bully to her opponents, most notably Liberty.