Salvatore "Sal" Valestra is a mob boss of Gotham who was powerful before Batman's arrival. He had a gang that consists of mobsters. He is one of the villains in the film Batman: Mask of the Phantasm.
He was voiced by the late Abe Vigoda.
History
Before Batman
Prior to the arrival of Batman, Sal ruled Gotham with an iron fist. He had Chuckie Sol and Buzz Bronski as his enforcers. A man named Carl Beaumont didn't pay them back for loaning them and Sal made threats. Carl promises to give the money in 24 hours and Sal agrees, on the condition that if it happens otherwise, he would "have Carl's heart in his hand." Carl took Andrea and left to the Mediterrenean and manage to send the money. Sal later realized Carl embezzeled a fortune and sent a hitman (Joker)  to kill him. The hit was successful due to Arthur Reeves who gave them the information.
Final Moments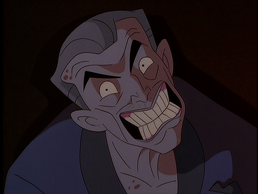 Years later, a vigilante named Batman came into Gotham and pressured Sal's business along with Comissioner Gordon. His hitman became the white faced, green haired man known as the Joker, and his enforcers were killed by Phantasm and most of his friends are gone.
Salvatore went to the last person who could help him, the notorious criminal and his own former hitman, the Joker, though even he was afraid of his former henchman. He offered the Joker five million dollars to kill Batman but the Joker was not interested. Sal made a big mistake by grabbing the Joker's shirt and getting angry at him. The Joker gleefelly assured Sal that he would take care of all his problems and that no would hurt his old pal Sal. The Joker later killed Sal by using his toxin and used the mob lord's body as bait. The Joker found out in a camera that the killer was not Batman but Andrea Beaumont using the identity as the Phantasm to kill the mob for killing her father. Sal's body was incinerated in this explosion that followed afterward, while the Phantasm evacuated.
Trivia
Valestra was mentioned in The New Batman Adventures.
Valestra was nicknamed 'the Wheezer' for his lung condition, presumably the results of his chain-smoking when he was younger.
As the Joker's former boss, Valestra may have been the last person who knew the Joker's real name and identity. This may be an added reason for the Joker's decision to kill him.
Ad blocker interference detected!
Wikia is a free-to-use site that makes money from advertising. We have a modified experience for viewers using ad blockers

Wikia is not accessible if you've made further modifications. Remove the custom ad blocker rule(s) and the page will load as expected.