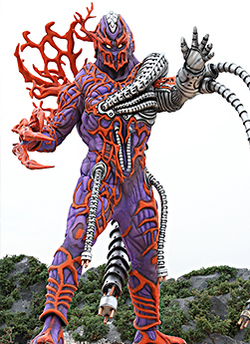 Salamandam is one of Space Empire Zangyack's Action Commanders.
Biography
He is originally sent to Earth in order to cause massive eruptions. However, Salamandam detours from his mission to take out the Gokai Galleon crew. After being defeated by Gokaigers assuming the forms of the Magirangers before using their Gokai Blast attack, an enlarged Salamandam is destroyed by Magi GokaiOh.
Ad blocker interference detected!
Wikia is a free-to-use site that makes money from advertising. We have a modified experience for viewers using ad blockers

Wikia is not accessible if you've made further modifications. Remove the custom ad blocker rule(s) and the page will load as expected.