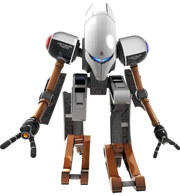 SCR-HD is the main antagonist of Sonic Riders: Zero Gravity.
He is the leader of the MeteoTech robots created by Dr. Eggman, who intended to use them to conquer the world with the power of the five Arks of the Cosmos. He put the master ark - the greatest of the five - in the mother computer, connecting the robots to this ark. However, Eggman began to lose control of the robots, who rampaged on their own.
SCR-HD's goal was to collect all five Arks to open a black hole, which would engulf the entire world. While confront Amy Rose and Storm the Albatross, he mysteriously exploded, allowing Storm to take the Ark that was inside him. However, SCR-HD was not destroyed in this explosion, though he was severely weakened. He was able to get all five Arks once Jet, Wave, and Storm had collected them all, and opened the black hole, merging with the computer's core into Master Core: ABIS.
While Eggman escaped the tower, Sonic, Tails, Knuckles, Amy, Jet, Wave, and Storm engaged Master Core: ABIS in a death race at Babylon Garden, where the black hole was opened at. In the end, Sonic defeated ABIS and knocked him into the black hole, destroying him and closing the black hole.
Trivia
The name "ABIS" is derived from the term "abyss".
Ad blocker interference detected!
Wikia is a free-to-use site that makes money from advertising. We have a modified experience for viewers using ad blockers

Wikia is not accessible if you've made further modifications. Remove the custom ad blocker rule(s) and the page will load as expected.