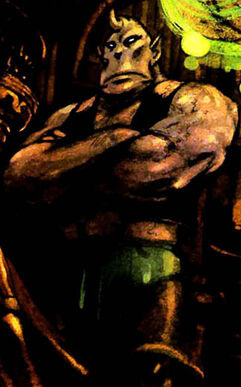 S'ym is the most physically potent native demon of the demonic realm called Limbo, also known as "Otherplace."
Along with N'astirh, S'ym is one of the better known demons of Limbo. He used to serve under Belasco, an ancient evil sorcerer serving the Elder Gods.
During Marvel's company-wide crossover called Inferno, S'ym and N'astirh took in Madelyne Pryor. She was a clone of Jean Grey, and the demons were going to use in a demonic invasion of Earth starting with Manhattan.
At one point, S'ym posed as the green two-headed Duke Bleys.
S'ym was last seen in the storyline The Return of Magik found in New X-Men. Illyana Nikolievna Rasputina, formerly known as Magik, returns to rule Limbo in her Darkchylde persona. S'ym, who used to be infected with the Transmode virus, is shown to be one of her servants now free of the techno-organic virus.