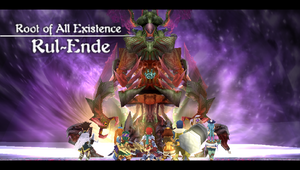 | | | |
| --- | --- | --- |
| " | Rul-Ende. The Root of All Existence itself. Your true opponent. It is the very order that governs the whole of Altago. | " |
| | ~ Tialuna about Rul-Ende | |
Rul-Ende is the final boss from Ys Seven. Described as "The Root of All Existence", Rul-Ende is a personification of Altago's will and the power behind the Wind of Destruction and the cycle of death and rebirth brought upon by it. Because of this, the existence of both the Altaginian dragons and the Iskan eldress is tied to it.
Rul-Ende appears as a gigantic monster with multiple arms and dragon heads. It is fought by three separate groups, each fighting one tier of it's large body while Adol takes on the monster's head by himself. After it's defeat, the cycle of death and rebirth is finally broken, so the Well of Souls crumble and the Dragons all ascend to the heavens, leaving Altago's fate into the human's hands.
Videos
Ad blocker interference detected!
Wikia is a free-to-use site that makes money from advertising. We have a modified experience for viewers using ad blockers

Wikia is not accessible if you've made further modifications. Remove the custom ad blocker rule(s) and the page will load as expected.