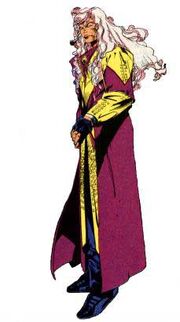 Ruckus is the leader of the Nasty Boys, a group of mercenaries employed by Mister Sinister and a mutant with the ability to absorb the sound waves around him and send them back with concussive force by screaming.
Origin
Mister Sinister favored Ruckus and often kept him in reserve. Unfortunately, Ruckus' youth makes him arrogant, as seen when he and his comrade (or possibly lover), Ramrod, robbed a convenience store and obliterated a group of police officers. The act did not go unpunished, and when returning to base, Ruckus was put in his place. While working with a renegade Madrox dupe, Ruckus was put in direct conflict with the mutant group X-Factor. Flying in a hovercraft, he went after Polaris, using the sound of a firecracker to amplify and literally rock her world. Polaris was eventually able to take him out, but he escaped with teammate Gorgeous George.
He appeared much later, along with the rest of the Nasty Boys, on a mission to stop Malice who had inhabited Havok's body. During the battle, Ruckus was the first to strike, using his power to catch Malice off guard. Eventually, X-Factor joined the battle and Ruckus was taken out by Strong Guy. After the battle, Mr. Sinister grabbed his Nasty Boys and fled.
He was eventually hired by Mystique to assassinate Senator Kelly, but failed to when the X-Men showed up.
After the M-Day, Clement was still powered, but became ashamed of his past actions. He eventually came to the Institute of Bio-Social Studies who had developed a new "mutant cure", X-Cise, after the Phoenix Dispersion and the mutant bloom. Clement then took the cure, leaving him in a child-like state, unable to use his mutant gifts. It is unknown if that choice was sincere or influenced by Red Skull's powers (using Charles Xavier's powers).
Television History
Ruckus was the leader of the Nasty Boys. He seemed to be older, but the others often cracked jokes at him being Sinister's "lapdog."