| | | |
| --- | --- | --- |
| " | Wouldn't surprise me a bite if the boy pulled a muscle or pinched a nerve. | " |
| | ~ Roulette says with a laugh after giving Sunspot bad luck | |
Roulette (Roulette) , aka Jennifer Stavros is a Marvel Comics supervillain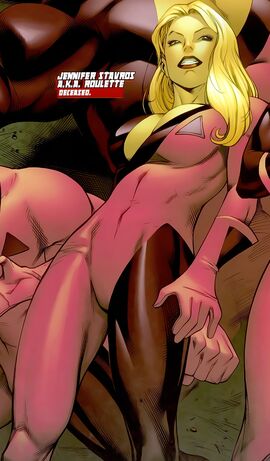 Her Family consisting of her grandparents and father, came to America. They immigrated from Greece, wanting to find a better life. They moved to New Jersey, specifically Atlantic City where Jennifer was born many years later, the youngest of 6 children, four boys and two girls. To support his family, Mr. Stavros dealt cards at a casino.
However, Jennifer's world changed completely when her mutant powers emerged. Jennifer and her siblings all grew up around gambling and games of chance, which possibly influenced her emerging abilities. It's suspected that Jennifer ran away from home when her powers first manifested. Finding that her mutant powers allowed her to control and create good or bad luck would only increase the amount of bad things she did while with her gang.Taking a rare opportunity for civility, Emma Frost threw a dance party for her Hellions and the New Mutants. Roulette and her teammates actually enjoyed the night — splitting off into small groups — until old rivalries flared again and the dance was canceled.
The two teams became quite fond of one another but were separated when Magneto realized that his emotions had been manipulated by Empath to convince him to relinquish the students.
It was there that Trevor Fitzroy—a member of the villainous group known as the Upstarts — crashed the party with the goal of killing Emma in order to gain points within the group. The Hellions were mere formalities. Roulette, along with most of her teammates, was killed by Fitzroy in order to fuel his time traveling teleportation portals.
Necrosha
Roulette, along with all other deceased Hellions, have been resurrected by Selene Gallio and Eli Bard with the Transmode virus.
Personality
Roulette is a bully, and troublemaker. She is almost completely self-centered. She likes to humiliate others and make them suffer. She has a bit of a feminist attitude but this defense for females is actually a trick so she can be the only one to pick on girls.