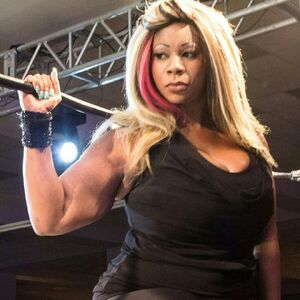 Roni Nicole is a villainess competing in the North Carolina-based Queens of Combat wrestling promotion.
Before serving as a regular on the Queens of Combat roster, Roni Nicole made her in-ring debut at the Brooklyn-based VALKYRIE promotion in October 2014, doing so as a villainess in a losing effort to Aja Perera. After the match ended, the evil Roni attacked Aja and left the ring in frustration. Roni first appeared for Queens of Combat over a month later at their third show, teaming with Jessie Kaye in a losing effort to Dani Jax and Sojo Bolt.
At the following event in March 2015, Roni formed a tag team with Miss Diss Lexia, but they were defeated by Amanda Rodriguez and Amy Love. At Queens of Combat 6 on June 14, Roni and Lexia teamed with "Hardcore" Heather Owens in a losing effort to Amy Love, Solo Darling, and Chasity Taylor.
Personality
Roni Nicole is portrayed as a trash talking villainess who displays arrogance and bullies her opponents.