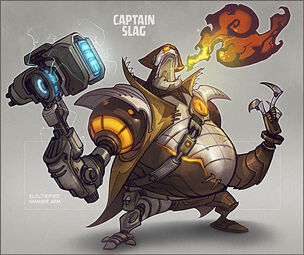 Captain Slag also known as Romulus Slag is a secondary antagonist in Ratchet & Clank:Tools of Destruction and later the co-antagonist of Quest for Booty.
He was created by Percival Tachyon alongside Rusty Pete but was betrayed and now captain of the robotic space pirates.he met Ratchet and Clank & Began to part with them and after a last battle,Slag was reducced to a head.In Quest for Booty Pete revives Slag and place him on a stick.Then He was revived by placing into Darkwater's body.After trying to share the body with Darkwater,Slag became a head again and orders pete to get him a new body.in Crack in time Slag and Pete appeared in Qwark's film My blaster runs hot.Then they have their own Radio Station,with a school on how to be pirates and later was presumed to be along side Pete to open a burger restruarant before it was destroyed by a Z'grute in All 4 one.
Ad blocker interference detected!
Wikia is a free-to-use site that makes money from advertising. We have a modified experience for viewers using ad blockers

Wikia is not accessible if you've made further modifications. Remove the custom ad blocker rule(s) and the page will load as expected.