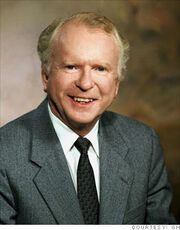 Roger B. Smith is the villain of the Michael Moore film Roger & Me.  He was the CEO of General Motors Corporation from 1981 to 1990.
He portrayed himself in the film.
Flint plant closings
In 1985, amidst record profits, Smith announces the closing of a GM manufacturing plant in Flint, Michigan, in order to relocate the plant to Mexico.  This incurs the wrath of the plant employees, and as the plant was the major employer in the city, leads to Flint's economic downfall.
Pursuit by Michael Moore
To confront him about this, Michael Moore pursued Smith on various occasions, trying to meet with him at GM's world headquarters in Detroit, trying to encounter him at his country club, and even masquerading as a shareholder at the annual shareholder's meeting to ask his questions.
Finally, Moore manages to catch up with him in the midst of GM's Christmas party in 1988, which led to the following short, terse exchange between the two:
Moore:  Mr. Smith, we just came down from Flint, where we filmed a family being evicted from their home the day before Christmas Eve.  A family that used to work in the factory.  Would you be willing to come up with us to see what the situation is like in Flint, so that people...
Smith:  I've been to Flint, and I'm sorry for those people, but I don't know anything about it, but you'd have to...
Moore:  Families being evicted from their homes on Christmas Eve.
Smith:  Well, I'm...listen, I'm sure General Motors didn't evict them.  You'd have to go talk to their landlords.
Moore:  They used to work for General Motors, and now they don't work there anymore.
Smith:  Well, I'm sorry about that.
Moore:  Could you come up to Flint with us?
Smith:  I cannot come to Flint, I'm sorry.
Because of the unfavorable portrayal of Smith (and the company in general), GM threatened to pull advertising from any TV station that interviewed Moore about the movie.  Nevertheless, the movie became very popular among GM employees for its portrayal of Smith, and Smith's confidence had weakened within the company due to an 8% drop in GM's market value at the time of the film's release.