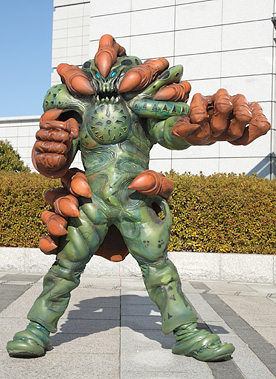 Rofer is a Nighlok monster debuting in the Power Rangers Samurai episode "The Team Unites".
He has the ability to extend his arms to extreme lengths and also can burrow his arms underground to surprise his foe. He was tricked by Mike by having his arms entangled and also even attacked himself when Mike jumped over him and he was eventually destroyed, but then he grew large and then was destroyed the second time with the Samurai Rangers' Samurai Megazord. He is later seen amongst the Nighlok monsters attending their annual Nighlok afterlife Halloween party in the episode "Party Monsters".
Trivia
Rofer is the main villain of the iOS videogame Power Rangers Samurai Steel.
Rofer appears in Power Rangers Samurai SMASH! as one of the three recurring bosses. His attack involves his fists coming up from underground at random locations.
He is voiced by Mark Wright.
See also
Rokuroneri, his Super Sentai counterpart in Samurai Sentai Shinkenger.