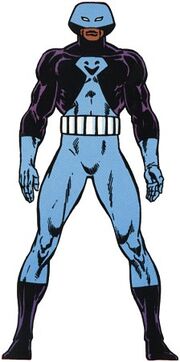 M'Gula is a villain from Marvel Comics.
Biography
Little is known the life of M'Gula before he joined a group of snake-themed villains led by the terrorist Viper when she aimed to win control of the mercenary group the Serpent Society.
It is known, however that M'Gula is citizen of Rudyarda, probably a mutant, and that he worked as a mercenary and criminal throughout all of Africa. At some point, M'Gula obtained from AIM the weapons that he carries (it is unknown if AIM also gave him his powers, therefore meaning he would not be classed as a mutant). M'Gula took the name Rock Python, and joined Viper's group. When the Serpent Society was attacked by Viper, they tried to wrest control from its leader Sidewinder. Rock Python and the rest of Viper's group vanquished the Society and took control.
However, one of the Society, Diamondback escaped with an unconscious Sidewinder and alerted Captain America, then known as The Captain, and his allies. The heroes stormed the Serpent Citadel, and during the battle Rock Python fought Nomad and the Falcon. Rock Python took part in Viper's plan to poison water supplies with a toxin that turned ordinary humans into snake people.
Rock Python remained with the Society when its leadership was taken over by King Cobra and, among other missions, was involved in apprehending Diamondback and putting her on trial for her supposed betrayal of the Society's secrets.
Captain America Villains
Comics
Absorbing Man | Adolf Hitler | A.I.M. | Aleksander Lukin | Arcade | Arnim Zola | Awesome Android | Baron Blood | Baron Von Strucker | Baron Zemo | Baron Zemo II | Batroc the Leaper | Black Talon | Blitzkrieg | Blizzard | Boomerang | Bullseye | Cache | Constrictor | Count Nefaria | Cowled Commander | Crimson Dynamo | Crossbones | Cutthroat | Dark Avengers | Doctor Doom | Doctor Faustus | Doctor Octopus | Electro | Famine | Firebrand | Fixer | Flag-Smasher | Ghost | Grand Director | Griffin | Grim Reaper | Heinz Kruger | Herr Kleiser | HYDRA | Hydro-Man | Jack O' Lantern | Killer Shrike | King Cobra | Kingpin | Klaw | Korvac | Lady Deathstrike | Living Laser | Lucia Von Bardas | Machinesmith | Madame Viper | Madcap | Magneto | Man-Ape | Mandarin | Master Man | Mentallo | Mesmero | Mister Hyde | M.O.D.A.M. | M.O.D.O.K. | Mole Man | Moonstone | Nightmare | Nightshade | Obadiah Stane | Punisher | Quicksand | Red Skull | Rhino | Ringmaster | Ronan | Roxxon | Säurespritze | Scarecrow | Scorpion | Secret Empire | Selene Gallio | Serpent Society | Shocker | Shockwave | Sidewinder | Sin | Skeleton Crew | Slug | Stilt-Man | Super-Adaptoid | Superia | Super Patriot | Supreme Intelligence | Tarantula | Taskmaster | Terminus | Thanos | Titania | Titanium Man | Trapster | Typhoid Mary | Unicorn | Ultron | Vermin | Whirlwind | Winter Soldier | Worthy | Wrecker | Yellow Claw | Zahnmörder | Zodiac
Movies
Captain America (1990): Red Skull | Valentina de Santis
The First Avenger: Red Skull | HYDRA (Arnim Zola, Heinz Kruger & Velt) | Adolf Hitler | Roeder | Hutter | Schneider
The Winter Soldier: Alexander Pierce | HYDRA/STRIKE (Winter Soldier, Brock Rumlow, Jack Rollins, Jasper Sitwell, Russo, Senator Stern, Arnim Zola, Wolfgang von Strucker, List, Scarlet Witch & Quicksilver) | Georges Batroc | Ferdinand Lopez | Gerald Durand
Civil War: Helmut Zemo | Thunderbolt Ross | Winter Soldier | Black Widow | Crossbones | HYDRA (Vasily Karpov & Winter Soldiers)