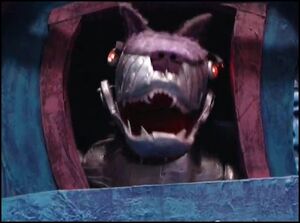 Robo-Dog was a robotic dog and an antagonist in TV show Lazytown.
It was created by Robbie Rotten to help him fight Sportacus and chase the kids away, but it was programmed attack anyone that said the word trouble.
However, when Sportacus takes a vacation, Stephanie takes it upon herself to protect Lazytown as SportaStephanie. Robbie unleashes the dog on the town, which causes mayhem until Robbie accidently said trouble, causing the dog to attack him. Robbie was saved by Sportacus, who returned and stopped the Robo-Dog. Robo-Dog was last seen sleeping on Robbie's couch.
Trivia
Robo-Dog met his end when Stephanie managed to turn him off by flipping the switch on his back.
Ad blocker interference detected!
Wikia is a free-to-use site that makes money from advertising. We have a modified experience for viewers using ad blockers

Wikia is not accessible if you've made further modifications. Remove the custom ad blocker rule(s) and the page will load as expected.