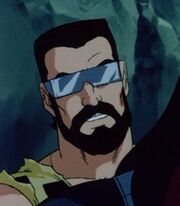 Ripper (Also known as Harry Nod) was born in Grim Cape, Tasmania. As a child, Ripper was so mean that he was expelled from nursery school for extorting candy from his classmates. He is a professional criminal who has spent most of his adult life in various correctional institutions, and is motivated by greed and a malign dislikes for the niceties of civilization; he does loves motorcycles, however. Ripper specializes in edged weapons and cutting tools, and is known throughout the swamps for using his blade like a cross between a fireman's axe and a can opener to unlock gates and crack safes. He is also one of the Dreadnoks who works for COBRA .
Ad blocker interference detected!
Wikia is a free-to-use site that makes money from advertising. We have a modified experience for viewers using ad blockers

Wikia is not accessible if you've made further modifications. Remove the custom ad blocker rule(s) and the page will load as expected.