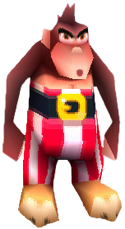 Rilla Roo is a character that was introduced in Crash Bash. He is cross between a gorilla and a kangaroo.
He was most likely created by Dingodile, who after Crash Team Racing decided to start a pet store, where he created his own mutants, among them was the 'Kanga-rilla'. Crash Bash was his only appearance in the series so far. However, he was originally going to be playable in Crash Nitro Kart.
Ad blocker interference detected!
Wikia is a free-to-use site that makes money from advertising. We have a modified experience for viewers using ad blockers

Wikia is not accessible if you've made further modifications. Remove the custom ad blocker rule(s) and the page will load as expected.