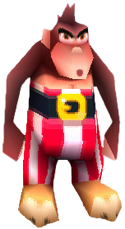 Rilla Roo is a character that was introduced in Crash Bash. He is cross between a gorilla and a kangaroo.
Nothing is known about Rilla Roo other than he doesn't like getting his photo taken. Crash Bash was his only appearance in the series so far, in which he served as part of Uka Uka's team. However, he was originally going to be playable in Crash Nitro Kart.
Trivia
It is speculated that he was most likely created by Dingodile, who after Crash Team Racing decided to start a pet store, where he created his own mutants, among them was the 'Kanga-rilla'.