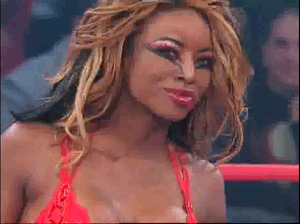 Rhaka Khan is a former professional wrestler and valet best known for portraying a villainess during her time in TNA.
Khan debuted in TNA as the villainous valet for Scott Steiner in February 2008, and later began managing Petey Williams during his run as X Division Champion. After several months as a villainess, Khan became a babyface and teamed with ODB in a winning effort against The Beautiful People. She teamed with ODB and Rhino in another winning effort against The Beautiful People in a six-person tag team match at Bound For Glory.
A month later, Khan volunteered to become Taylor Wilde's tag team partner against Awesome Kong and Raisha Saeed, but during the match, Khan turned into a villainess and attacked Wilde, allowing Kong to defeat her. Khan laughed evilly over her traitorous actions and stood tall with Kong and Saeed over the fallen Wilde. Shortly after turning heel, the evil Khan officially joined The Kongtourage, which consisted of Kong, Saeed, and Sojo Bolt. and they spent weeks feuding with Wilde, Roxxi, ODB, and Christy Hemme. Khan's villainous role ended when she and Sojo were ousted from the faction, leaving them to defeat their former allies in a tag team match. Khan left TNA on October 1, 2009.