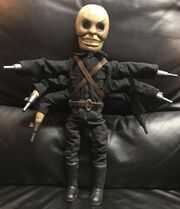 Retro-6-Shooter
is one of the retro puppets. He was animated by the soul of the sorcerer Afzel. He killed one of the
Sutekh
's
servants
by shooting the chandelier chains, causing it to crush him. The two other henchmen retreated.
Differences from the other Six-Shooter
There are several notable differences between this Six Shooter and the other one.
1. This one does not have a hat or bandana.
2. He is not painted and doesnt have eyes.
3. He has guns for hands rather than actually carrying pistols.
4. Wears a black uniform instead of the cowboy outfit.
5. He cannot climb walls like the original Six Shooter.
6. He does not have a gold tooth.
Appearances
Puppet Master 7: Retro Puppet Master
Puppet Master 8: The Legacy (Archival footage)