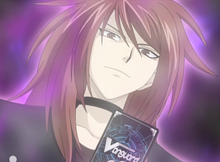 Ren Suzugamori is a character in Cardfight Vanguard. He first appears as the main antagonist in the first season of the anime, as well as in the recurring character in Season 2, and one of the main characters of the Season 3. In Season 4, he is one of the few people who remembers Aichi Sendou on their own and also knows where Aichi's location is. In G Season 2, he is the Shadow Paladin Clan Leader and the successor to Kanzaki as the Branch Chief of United Sanctuary. His vanguard circle is violet.
Personality
According to the anime, Ren is greedy, cruel, manipulative and ambitious man who wanted to win through evil ways. However, he depicts himself as relaxed and controlling, acting as almost exclusively his Foo Fighter teams. He was once friends with Kai. But when Kai sees what Ren is doing, he left the friendship with him and wanted to find someone who would challenge him.
Playstyle
Ren uses his dark and shadowy deck, the Shadow Paladin Deck, composed from cards in BT04 and BT05. Ren shows pride as he gets the upper hand over the other players as well as rivals. His signature card is Blaster Dark, a dark counterpart to Aichi's Blaster Blade.