Ravage is a recurring antagonist of the Transformers multiverse. He served as a supporting antagonist of the 2009 film Transformers: Revenge of the Fallen. He is a Decepticon and one of Soundwave's pets who has one glowing red eye, two pointy ears on the back of his head, a razor-sharp mane, and a claw on the tip of his tail. His physiology is vaguely cougar-like.
Appearances
Transformers: Revenge of the Fallen
When Soundwave learns of the location of the Allspark shard, he dispatches Ravage to find and retrieve it. Ravage makes it to Diego Garcia and deploys his microcons to get it while he holds off the NEST forces. Ravage successfully gets the Allspark shard and meets up with the Constructicons who use it to revive Megatron.
Meanwhile in Egypt, Ravage searches for Sam during the final battle. As Bumblebee fights Rampage, Ravage jumps on his back to help his fellow Decepticon, but the Autobot grabs his tail, strips his entire upper body from his spine, and proceeds to beat Rampage to death with his other half.
Beast Wars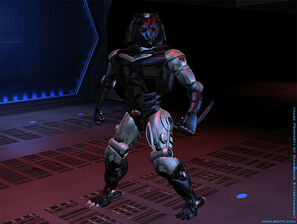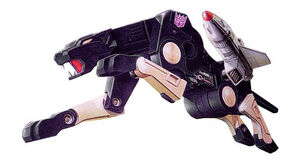 Near the end of Season 2, Ravage was sent to prehistoric Earth in a transwarp cruiser to capture
Megatron
. With the help of
Tarantulas
, they succeeded in capturing him, but he used a fragment of the Golden Disk to reveal that he was following the original
Megatron
's orders all along.
From here Ravage joined the Predacons and attacked the Maximals, but was killed when Rattrap planted bombs on Tarantulas to blow up his ship. All that remained was his lifeless head, which (at the beginning of Season 3) was kicked into the river by one of Tarantulas's spider drones.
Transformers: The Ride
Ravage appears as the first Transformer in the Universal Studios Hollywood and Singapore 3D ride Transformers: The Ride where he debuts trying to steal the All Spark (kept inside a glass cylinder) and he is able to escape the humans who are firing upon him, resembling the scene in Revenge of the Fallen where he was attacking human military firing at him.
He then jumps onto EVAC, with the riders inside directly seeing him. He jumps onto the top of EVAC (giving the effect of being shaken) before Bumblebee crashes out of the wall to wrestle with Ravage. Bumblebee succeeds in snapping Ravage, killing him and taking away the All Spark. However, Decepticon Sideways shows up behind Bumblebee who tries to grab the All Spark but is punched and chased away by EVAC and Bumblebee.
G1
He also made appearances in the classic cartoon of the Transformers. He made more appearances than any other of Soundwave's cassette troops.
DreamWorks Villains
Animated Features
General Mandible | Colonel Cutter | Pharaoh Rameses | Hotep & Huy | Pharaoh Seti I | Tzekel-Kan | Hernán Cortés | Melisha Tweedy | Willard Tweedy | Lord Farquaad | Thelonious | George Armstrong Custer | Roy, Bill, Jake, Pete and Joe | Eris | Cetus | Roc | Fairy Godmother | Prince Charming | Trees | Don Lino | Lola | Frankie | Luca | Fossas | Nana | Victor Quartermaine | Philip | Vincent | Gladys Sharp | Dwayne LaFontant | The Toad | Le Frog | Spike & Whitey | Thimblenose Ted | Fat Barry | Ladykiller | Rapunzel | Layton T. Montgomery | Ken | Tai Lung | Makunga | Gallaxhar | Robot Probes | Derek Dietl | Red Death | Rumpelstiltskin | Fifi | Pied Piper | Megamind | Minion | Tighten | Lord Shen | Lord Shen's Wolf Army (Boss Wolf) | Jack & Jill | Humpty Alexander Dumpty | Chantel DuBois | Pitch Black | Nightmares | Guy Gagné | Ms. Grunion | Drago Bludvist | Drago's Army (Muddy Bewilderbeast & Eret) | Dave | Octopi | Captain Smek | The Boov (Officer Kyle) | Kai the Collector | Chef | Creek | King Gristle Sr. | Francis E. Francis | Eugene Francis | Professor Poopypants | Benjamin Krupp | Melvin Sneedly | Turbo Toilet 2000 | Tara Ribble | Talking Toilets
Live-Action Movies
The Mouse | Major Chip Hazard | Commando Elite (Butch Meathook, Nick Nitro, Brick Bazooka, Link Static, Kip Killigan, Vasquez & Gwendy Dolls) | Gil Mars | General Roth'h'ar Sarris | Commodus | Lamar Burgess | Connor Rooney | Harlen Maguire | Sadako Yamamura | Ocean Entity | Larry Quinn | Rasputia Latimore | Big Black Jack Latimore | Blue Latimore | Earl Latimore | Deion Hughes | Buster Perkin | Robert Turner | Megatron | Decepticons (Starscream, Barricade, Frenzy, Blackout, Scorponok, Bonecrusher & Brawl) | Sweeney Todd | Nellie Lovett | Judge Turpin | Beadle Bamford | Jonas Fogg | Adolfo Pirelli | ARIIA | The Fallen | Decepticons (Soundwave, Sideways, Grindor, Ravage, Alice & Scalpel) | Constructicons/Devastator (Demolishor, Rampage, Long Haul, Mixmaster, Scrapper, Scavenger, Hightower & Overload) | Theodore Galloway
Shorts, TV Shows and Video Games
Mr. Chew | Tour Guide | Boneknapper | Wu Sisters | Le Chuchoteur | Fearless Leader | Boris Badenov | Natasha Fatale | Snidely Whiplash | Doom Syndicate (Psycho Delic) | Coverton | D-Structs | Skrap-It | Splitter | Blayde | Pounder | D-Stroy | Goldtrux | Emperor Zarkon | Galra Empire (Prince Lotor, Haggar, Sendak & Lotor's Generals) | Gunmar | Gumm-Gumms (Bular) | Stricklander | Angor Rot | Dictatious Maximus Galadrigal | Morgana
Transformers Villains
Generation One
Decepticons
Megatron | Starscream | Soundwave | Ravage | Laserbeak | Ratbat | Frenzy | Rumble | Thundercracker | Skywarp | Shockwave | Reflector | Thrust | Ramjet | Dirge | Devastator/Constructicons (Long Haul, Bonecrusher, Scrapper, Mixmaster, Scavenger & Hook) | Bruticus Maximus/Combaticons (Brawl, Vortex, Blast Off, Swindle & Onslaught) | Menasor/Stunticons (Breakdown, Drag Strip, Wildrider, Dead End & Motormaster) | Insecticons (Shrapnel, Bombshell & Kickback) | Acid Storm | Sunstorm | Galvatron | Cyclonus | Scourge | Sweeps | Predacons/Predaking (Razorclaw, Rampage, Divebomb, Tantrum & Headstrong) | Terrorcons/Abominus (Hun-Gurr, Blot, Cutthroat, Rippersnapper & Sinnertwin) | Runabout & Runamuck | Trypticon | The Fallen | Scorponok | Weirdwolf | Skullcruncher | Mindwipe
Others
Unicron | Quintessons | Doctor Arkeville | Shawn Berger | Lord Chumley | King Nergill | Ali | Nightbird | Jero | Old Snake | Primacron | Tornedron | Dweller | Mark Morgan | Gregory Swofford | Scraplets
Generation Two
Decepticons
Megatron | Starscream | Soundwave | Bludgeon | Onslaught | Swindle | Blast Off
Cybertronian Empire
Liege Maximo | Jhiaxus | Rook | Mindset
Others
Swarm
Beast Wars/Beast Machines
Predacons/Vehicons
Megatron | Scorponok | Waspinator | Blackarachnia | Terrorsaur | Tarantulas | Inferno | Tankor | Obsidian and Strika | Thrust
Unicron Trilogy
Decepticons
Megatron | Starscream | Thundercracker | Thunderblast | Ancient Decepticons
Others
Unicron | Sideways | Nemesis Prime
Animated
Decepticons
Megatron | Starscream | Blitzwing | Lugnut | Blackarachnia | Shockwave/Longarm Prime | Soundwave (Laserbeak & Ratbat)| Starscream Clones (Slipstream) | Lockdown | Swindle | Wasp/Waspinator
Constructicons
Scrapper | Mixmaster | Dirt Boss
Team Chaar
Strika | Oil Slick | Blackout | Cyclonus | Spittor
Others
The Angry Archer | Bat-Monster | Colossus Rhodes | Headmaster | Meltdown | Master Disaster | Nanosec | Professor Princess | Seafood Louis creature | Slo-Mo
Prime Wars Trilogy
Starscream | Overlord | Megatronus | Rodimus Cron