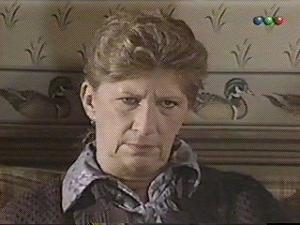 Raquel Ochmonek is the wife of Trevor Ochmonek, and the aunt to Jack Ochmonek. She is the sister in law of Sirial Ochmonek and his wife Elaine. Raquel is often grumpy, impatient, argumentative, and obnoxious, making her an antagonist towards the protagonists - ALF and the Tanners. However, one episode that emphasized sympathey for her was "Take a Look at Me Now"
Personatlity
Raquel is a very nosy, curious, and inquisitive neighbor, and when she and Trevor have a fights and he moves out, she constantly spies on him, coming to the conclusion that he was having an affair with the widow Myrna Byrd (he, however was borrowing milk). She and her husband Trevor are constantly dropping in uninvited on the Tanners. In the pilot episode, she once saw ALF out the window, (who she thought was a mixed breed of a kangaroo and an aardvark) ALF at the second time viewing out the window shook with a red towel at her, than ran out.
History
Raquel and Trevor often argue with each other, with Trevor always to escape the argument while Raquel wants to immediately verbally end the argument with Trevor. ALF enjoys watching so in "Lookin' Through the Windows", as he gave Trevor 9 points and Raquel 3 and a half points.
As Raquel often snoops on other people in the neighborhood, ALF also snoops on the Ochmoneks at times. ALF is seen using opera glasses to watch the Ochmoneks fight through Kate and Willie's bedroom window, and he also admits that he sometimes crawls under peoples' houses and hears things.
In "Stairway to Heaven", ALF dreamed if his existence was taken away from the Tanners' lives, then they would have been wealthy and their maid would be Mrs. Ochmonek. The Tanners actually took up a bigger residence by demolishing where the Ochmoneks would have lived. However, Trevor's fate was not explained. Mrs. Ochmonek is asked to belch for Mrs. Tanner and picked up the broken crystal vase that Willie tipped off the table in hopes of relieving his boredom.