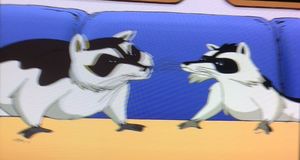 The Racoons are villains in Stuart Little: The Animated Series. They are the main antagonists in "The Great Outdoors".
They stopped the Guard from a Camping Trip. they were defeated by getting arrested. Like the other villains, they were never seen again. 
Personality
The Raccoons are mean, cruel, greedy, serious, cocky, rude, brash, pitiless, scornful, desperate, obnoxious, diabolical, argumentative, discourteous, vindictive, truculent, vicious, angry, evil, sneaky, jealous, baleful, and arrogant. They were also selfish towards Snowbell. 
Trivia
They were the first Stuart Little villains to be in the TV show. 
They also had the same personailty as Scar and Tiger.
Their personailty are very similar to Falcon's.
Ad blocker interference detected!
Wikia is a free-to-use site that makes money from advertising. We have a modified experience for viewers using ad blockers

Wikia is not accessible if you've made further modifications. Remove the custom ad blocker rule(s) and the page will load as expected.