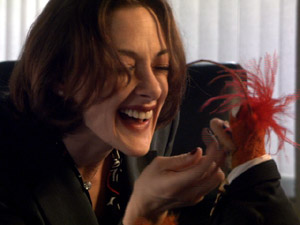 Rachel Bitterman is the main antagonist of It's a Very Merry Muppet Christmas Movie.
She was portrayed by Joan Cusack.
She is a spoiled brat who owns Bitterman Bank and Development after the death of Mr. Bitterman (with whom her relationship is unknown, though it is quite possible she was his wife). As the film is a parody of It's a Wonderful Life, she is the parody counterpart of Mr. Potter.
She intends to foreclose the Muppet Theater if Kermit doesn't pay her, demolish it, and build a hipster nightclub on its land. At the end, when Bitterman finds out the theater is useless and Pepe tells her it is now a historical landmark which she thus cannot tear down, she runs out of the theater, whining and ranting against the Muppets.
Ad blocker interference detected!
Wikia is a free-to-use site that makes money from advertising. We have a modified experience for viewers using ad blockers

Wikia is not accessible if you've made further modifications. Remove the custom ad blocker rule(s) and the page will load as expected.