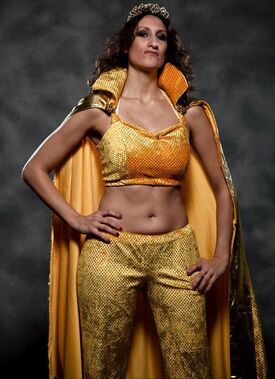 Queen Maya
is an Italian professional wrestler competing as a villainess in the UK's Bellatrix promotion (formerly known as the World Association of Women's Wrestling). At 6'1", she is Europe's tallest female wrestler, and she is a two-time RQW European Champion.
Queen Maya debuted for WAWW/Bellatrix at The Return on November 19, 2011, and defeated Amazon to capture the vacant RQW European Championship. She had her first successful title defense against Jewel at Bellatrix 1, and she retained against Aurora Flame at Bellatrix 2 due to interference from villainous commentator Jetta. At Bellatrix 4, Queen Maya was set to captain her heel team against Rhia O'Reilly's babyface squad in a Survivor Series-style elimination tag team match. However, she was defeated by Liberty in one of four singles matches that took place before the main event. After her loss, the evil Queen Maya refused to compete in the main event due to a broken arm, but she also stated that she refused due to "being disrespected" by the attending crowd.
Queen Maya lost her title to Liberty at Bellatrix 5 in March of 2013 after a reign that lasted well over a year. She would rebound with a win over Scotland's Kay Lee Ray at Bellatrix 6, which was dubbed "European Night of Action." After a near two-year absence from the promotion, Queen Maya returned at Bellatrix 12 in February of 2015 and defeated former British Ladies' Champion Erin Angel. At Bellatrix 13, Queen Maya defeated Sammi Baynz to regain the RQW European Championship, and in her first title defense at Bellatrix 14, she competed to a time limit draw against Lady Lory.
Personality
Queen Maya is immensely arrogant and she constantly snarls at fans during her matches. She also displays physical ruthlessness to her opponents.
Gallery