| | | |
| --- | --- | --- |
| " | No, it's an outrage! I am the QUEEN here! | " |
| | ~ Queen Machina | |
Queen Machina (simply known as Machina) is the tyrannical queen of the Machine Empire and the secondary antagonist from Power Rangers Zeo, as well as a minor antagonist in Power Rangers In Space. She usually carries a metal fan with her.
History
Along with the rest of the Royal House of Gadgetry, Queen Machine came to the moon after deciding to use it as a staging ground for the empire's invasion of Earth.
After Lord Zedd and Rita Repulsa were driven off of the moon, Queen Machina stated that they needed to recapture the two. Later, when King Mondo decided to use the Sword of Damocles again, she expressed concern since the sword destroyed him before.
After he was destroyed and Louie Kaboom took over, Queen Machina found him constantly trying to woo her, but she constantly refused his advances. She was delighted to see the return of her son, Prince Gasket, and her daughter-in law, Archerina.
However when King Mondo was rebuilt, Queen Machina instantly took to his side and helped to drive out Gasket. She was later blown to bits along with the other members of the Royal House of Gadgetry at the end of Zeo by a bomb planted by Zedd and Rita.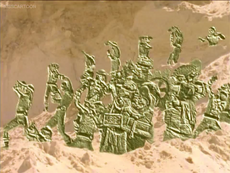 But Machina and the others were rebuilt by the United Alliance of Evil and they attended the alliance's meeting on the Cimmerian Planet. Machina also took part in Dark Specter's invasion of the universe and accompanied her husband and General Havoc to the Phantom Ranger's home planet and attacked it. However she was destroyed once again by the energy from Zordon's shattered energy tube and was destroyed for good.
Trivia
Machina was voiced by Alex Borstein, who became famous for her work on MADtv and Family Guy.
While her Super Sentai counterpart, Empress Hysteria, was more uncaring, Machina demonstrated a level of emotion, caring about her sons and her husband.