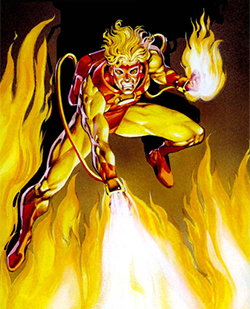 | | | |
| --- | --- | --- |
| " | You know all those dangerous mutants you hear about on the news? ...I'm the worst one. | " |
| | ~ Pyro in X-Men 2: X-Men United. | |
Pyro is a supervillain from Marvel Comics. He is a mutant with the power to control fire, though he cannot actually project it from his body and uses two flame throwers that are hooked up to a pack on his back.
History
He was part of Mystique's original Brotherhood of Evil Mutants, and has fought against the X-Men several times. John Allerdyce's Pyro alter ego is a mutant whose ability allows him to control the fire but not to produce it. Therefore, Pyro always has a flamethrower and a fuel tank as part of his costume, although before he only did it with lighters or matches. It can increase or decrease the flames and can also make detailed "fire sculptures" that respond to your command. Pyro can also increase the intensity of the fire to the point of melting the bullets before they reach it.
John lived in Australia when his powers manifested in adolescence, as did most of the mutants of X-Men, such as the Ice Man and the Black Lynx .
Films
In the X-Men films, Pyro (X-Men Movies) is originally a member of the X-Men and friends with Iceman and Rogue, but joins with Magneto midway through the film and becomes a part of the Brotherhood of Evil Mutants.
Gallery