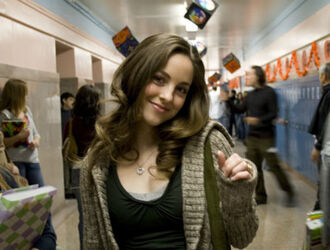 Priscilla Wright
is the secondary antagonist of The Haunting Hour movie "Don't Think About It".
She is a school bully that hates Cassie for her existence and wanted to make sure that she is the Halloween Queen at the halloween prom. When she broke open the pumpkin piñata she got covered in cockroaches which Cassie added to end the mean queen's reign over the school. Priscilla then stole "The Evil Thing" from Cassie's bag in school and films her jumping in fear, while having Sean (who is forced to go along in exchange that Priscilla helps him with his school report) use a CD player to play monster sounds outside in order to make the monster appear to have come to life. As Priscilla gloats at her victory, Sean takes her camera phone and leaves her behind where she actually encountered "The Evil Thing" and was captured along with Cassie's brother Max and a pizza delivery guy. After the creature was destroyed, Priscilla angrily accuses Cassie of being a witch and Sean rejects Priscilla in favor of Cassie.
Ad blocker interference detected!
Wikia is a free-to-use site that makes money from advertising. We have a modified experience for viewers using ad blockers

Wikia is not accessible if you've made further modifications. Remove the custom ad blocker rule(s) and the page will load as expected.