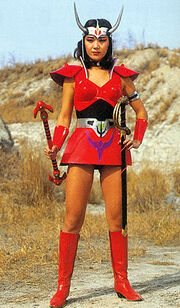 Princess Chimera (8-51): The witch niece of Aton, cousin of Megiddo. She has a short, round tail of four. She respects Aton and is a master in illusions and psychokinesis. She is excellent at strategies to fool humans by using disguises and charm. She is Rei / Dyna Pink's rival. As prideful as her cousin Megiddo, the two constantly bicker. She died alongside with Meggido.
Ad blocker interference detected!
Wikia is a free-to-use site that makes money from advertising. We have a modified experience for viewers using ad blockers

Wikia is not accessible if you've made further modifications. Remove the custom ad blocker rule(s) and the page will load as expected.