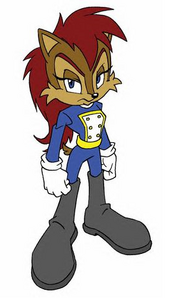 Princess Alicia Acorn is the Anti-Mobian version of Princess Sally and a villain in the Archie series of comic books based on the popular Sonic the Hedgehog franchise: unlike her mainstream self this version of Princess Sally is very much a criminal and has been the on-and-off girlfriend of Scourge The Hedgehog.
Origin
While in the mainstream Mobius Princess Sally's father was cast out of power by the villainious Dr Robotnik in the alternate reality known as Anti-Mobius she and Scourge performed the deed and looked back on their grisly deed as "good times". Following this she and Scourge led the Anti-Freedom Fighters against the kindly Dr. Julian Kintobor and took over Mobius, turning the planet into a dystopia in the process.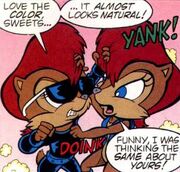 Ad blocker interference detected!
Wikia is a free-to-use site that makes money from advertising. We have a modified experience for viewers using ad blockers

Wikia is not accessible if you've made further modifications. Remove the custom ad blocker rule(s) and the page will load as expected.