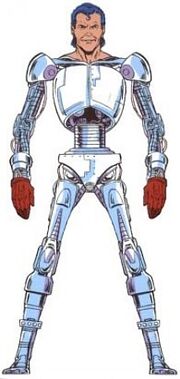 The cyborg Pretty Boy was a member of the original Reavers, a gang of cyborgs living in a ghost town in Australia, who perpetrated robberies across the globe. When robbing a bank in Hong Kong, Pretty Boy took Jessan Hoan hostage and brought her back to the Reavers' Australian base where he began to alter Jessan's mind so that she would join the team as their financial expert. The X-Men arrived and battled the Reavers, interrupting the process and freeing Jessan. Pretty Boy, Bonebreaker and Skullbuster, fled and avoided being sent through the Siege Perilous with the other Reavers. Under the leadership of Donald Pierce, the remaining Reavers allied themselves with Lady Deathstrike and her minions and began training to defeat the X-Men. The Reavers never ended up battling the X-Men but encountered Wolverine, beat him half to death, and then crucified him.
After Wolverine escaped, the Reavers attacked Muir Island where they battled the Muir Island X-Men and Freedom Force, killing Sunder and Stonewall before being defeated. After the Muir island massacre, Pretty Boy and the other Reavers continued to attack various heroes and mutants such as Wolverine, Rogue, and the Punisher as well as Emma Frost's factories. As part of the Upstarts' competition, Trevor Fitzroy sent his Sentinel to attack Pierce and the Reavers. The Sentinels arrived in Australia and quickly dispatched the Reavers.
Pretty Boy was among the other Reavers reassembled by Pierce and the Shadow King, who attacked the X-treme X-Men. While battling Sage, he pinned her to the ground and attempted to reprogram her brain with the circuitry in his own. Sage proved to have the stronger will and better training and she turned Pretty Boy's programming back on him, using his own link. Under Sage's control, Prettyboy helped the X-Men defeat the Reavers and was then handed over to the police.
Television History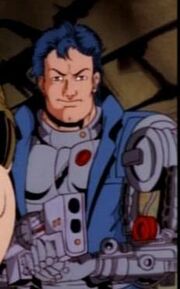 Prettyboy is a member of the cyborg mercenaries called the Reavers. They searched for an ancient alien craft that supposedly held limitless power. They located it within the Morlock Tunnels but were unable to breach the hull. After capturing the Morlocks they came to the conclusion that only adamantium could open it. They led the X-Man Wolverine down to the sewers and tricked him into cutting a hole in the ship, releasing the entity called the Spirit Drinker.
Gallery