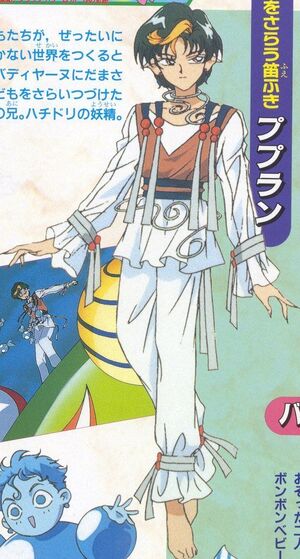 Poupelin
(also known as
"Pupulan"
in the English version) is the secondary antagonist of
Sailor Moon Super S: the Movie
. He is the enthusiastic older brother of the reluctant Perle (Peruru). He is loyal to
Queen Badiane
, as are two other fairies, Banane and Orangeat, as he mesmerizes children with his magical flute. He also uses it when he throws wrapped-up pieces of candy and plays it to bring them to life as
Bon-Bon Babies
. When Sailor Uranus, using her power knife, asks him what he's doing with the children, he says his group "just lets them stay children forever". When he plays his flute, Sailor Uranus cuts it, and he screams for Badiyanu's help as he transforms into a blue hummingbird, causing his blue Bon-Bon Babies to fade away forever, making him the last one to be transformed.
Trivia
Ad blocker interference detected!
Wikia is a free-to-use site that makes money from advertising. We have a modified experience for viewers using ad blockers

Wikia is not accessible if you've made further modifications. Remove the custom ad blocker rule(s) and the page will load as expected.