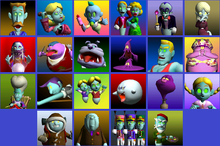 The Portrait Ghosts are ghosts who used to be portraits and serve as antagonists in Luigi's Mansion.
Biography
Professor E. Gadd says that the ghosts used to be portraits until King Boo and his Boos brought them back to life as ghosts. Now they are doing their common hobbies when they were alive, aware of knowing that they are already undead. Luigi must vacuum up all of them and bring them to the Professor to activate the Ghost Portrificationizer, which turn the Portrait Ghosts into common Portraits.
Members
Lydia
The Floating Whirlindas
Shivers
Melody Pianissima
Mr. Luggs
Spooky
Miss Petunia
Nana
Slim Bankshot
Henry and Orville
Madame Clairvoya
Uncle Grimmly
Clockwork Soldiers
Sue Pea
Jarvis
Ad blocker interference detected!
Wikia is a free-to-use site that makes money from advertising. We have a modified experience for viewers using ad blockers

Wikia is not accessible if you've made further modifications. Remove the custom ad blocker rule(s) and the page will load as expected.