Ad blocker interference detected!
Wikia is a free-to-use site that makes money from advertising. We have a modified experience for viewers using ad blockers

Wikia is not accessible if you've made further modifications. Remove the custom ad blocker rule(s) and the page will load as expected.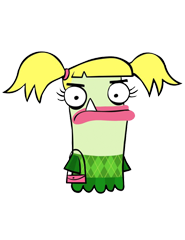 Piranhica is Jocktopus's girlfriend and assistant. She's a green fish with blonde hair made into two ponytails.
Personality
Piranhica is deceiving and a bully, like Jocktopus. Unlike Jocktopus, she's smart and knows what money is. She is intimidating and loves provoking others. She hates nerds like Albert and Jumbo and doesn't like people who are annoying.
Trivia
Piranhica's name is divided between "Piranha" and "Veronica".
Piranhica is rarely seen without her pink purse.
External links