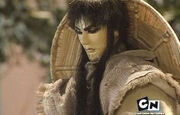 Phoenix
is the secondary antagonist of the Taiwan-made puppet TV series, 
Wulin Warriors
. The son of Lu Pin, who was the former king of the northern lands. However, Phoenix's father, Lu Pin was soon replaced by the Dragon King, who was more popular. Phoenix left his region blemished with shame. Phoenix swore to get revenge against the Dragon King, in which he teamed up with the other Wulin Warriors under the Oracle, in order to become a much greater warrior. However, at the time of Phoenix's first training with the Oracle, he was at a mere age of 6. Even though that was so, he still truly proved himself as a Wulin Warrior. Phoenix greatly looks forward to the day when he will finally take back the throne. Phoenix also puts much pride in his noble birth, believing that it will be the reason to prove that he is the greatest warrior. His subordinates however don't much think so, even though his skills still only rank slightly below that of Scar and Lone Sword.
Phoenix soon finds out how much the Oracle truly admires Lone Sword compared to him due to the different balance of skill. Because of this, Phoenix hides deep envy. Yet with all of these flaws, he is still a great friend to the other Wulin Warriors. Phoenix has a very strong sense of self-worth, and takes pride in his great abilities. Because of his envy for Lone Sword, Phoenix was manipulated into joining Scarab's army.