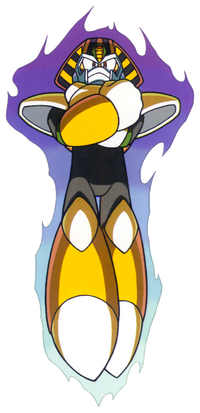 Pharaoh Man is one of the eight Robot Masters from Mega Man 4.
Pharaoh Man was the 4th robot created by Dr. Cossack to explore pyramids and other ancient ruins and given a pharaoh motif. He was devised with high adaptability to dark places, as well as enhanced resistance and agility. When Dr. Wily blackmailed Cossack, he equipped him with extra combat abilities, giving him his signature Pharaoh Shot, which allows him to concentrate solar energy in a powerful blast. Pharaoh Man does believe himself to be an actual pharaoh, having a dislike for raiders.
The battle with him is a tricky one, as Pharaoh Man constantly jumps around while shooting at the player, sometimes stopping on the ground and shooting energy waves at the sides. His weakness is the Flash Stopper, which freezes him in place for a short time, allowing the player to easily damage him.
Videos
Ad blocker interference detected!
Wikia is a free-to-use site that makes money from advertising. We have a modified experience for viewers using ad blockers

Wikia is not accessible if you've made further modifications. Remove the custom ad blocker rule(s) and the page will load as expected.