This article's content is marked as Mature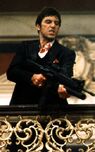 The page Phantom Mangle contains mature content that may include coarse language, sexual references, and/or graphic violent images which may be disturbing to some. Mature pages are recommended for those who are 18 years of age and older.
If you are 18 years or older or are comfortable with graphic material, you are free to view this page. Otherwise, you should close this page and
view another page
.
Phantom Mangle is an antagonist in the game Five Nights at Freddy's 3 and is one of the six phantom animatronics in the game. It is a hallucination of a burned and damaged version of the Mangle.
Appearance 
Mangle's mask can be seen in a box among other Toy Animatronics.
Mangle also appears as a Phantom, much like the other animatronics. Unlike the other Phantoms however, it will not jumpscare the player and, much like the Puppet, will simply stare at the player. Phantom Mangle looks much like Mangle did in the second game, but with a burnt appearance, possibly foreshadowing the fire that broke out in the establishment. Phantom Mangle seems to have half of its left eye missing.
Locations 
Phantom Mangle appears exclusively on CAM 04 and, when it appears in The Office, it will be behind the window and to the left. Phantom Mangle only appears to be present from Night 2 onward.
Behavior 
Phantom Mangle sometimes appears on CAM 04 hanging from the ceiling and, once spotted, will start emitting loud, garbled radio interference. When the player lowers the Monitor, Phantom Mangle will rise up behind the window and remain. After a few seconds, it will drop down from below the window, thus ending the hallucination and triggering an audio error.
Gallery
Trivia
Phantom Mangle isn't listed in the Extras menu, which is evidence Phantom Mangle is simply a side hallucination.