Phantom (Megaman Zero)
Talk

0
35,536pages on
this wiki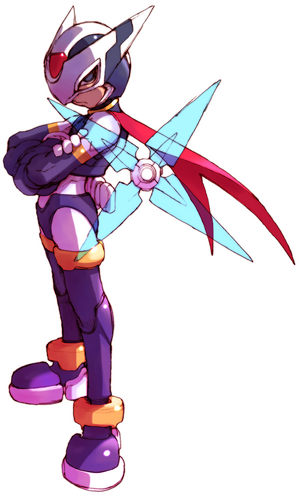 Phantom is a villain from the
Megaman Zero
series of video games.  Like his siblings, Phantom's armor is based on that of his template, X, with thematic alterations. Phantom's armor is colored black. His design is based on that of a ninja, having ninjutsu skills and making use of shuriken, kunai and katana to attack, as well as using illusions and substitutes to conceal himself. He is thus aptly named for his dark nature and ghostly movements. A white mask covers the upper half of his face, and he wears a red two-tailed cape on his back.
Phantom is the only member of the Four Guardians not to display an Armed Phenomenon form, having self-destructed in the first game before such transformations were revealed. He presumably has one, however, as all of his siblings display an Armed Phenomenon. Although he doesn't appear in Mega Man Zero 2, the Mega Man Zero Official Complete Works contains concept art which depicts Phantom's Armed Phenomenon form .
Phantom has a calm, quiet demeanor. His major trait is his unwavering allegiance to his "Master X", displaying more loyalty than his three counterparts (none of whom were willing to sacrifice their lives in order to protect Copy X, possibly since they knew he was not really their "master" only a flawed replica of him). Phantom has no mercy for those who oppose Neo Arcadia. His sacrifice may be considered admirable, despite the flawed nature of its cause.
At some point, Phantom and the other three Guardians were created from X's schematics; for exactly what purpose is unknown (and exactly when is unknown), though it may have simply been to be bodyguards for X as they have been for around a century in Neo Arcadia. At some point, the four became military generals of Neo Arcadia, responsible for the overall safely of its inhabitants, both humans and Reploids. Phantom became the leader of the Zan'ei Army, Neo Arcadia's stealth units and anti-Resistance intelligence unit.
Phantom's first appearance was to fight against Zero in a factory captured by the Resistance. Zero defeated him, but Phantom turned the tables when he informed Zero that he had planted bombs all over the factory. Zero found them and disposed of them, and later defeated Phantom's closest apprentice, Hanumachine.
When Phantom confronted Zero again in Neo Arcadia's Core, he was again defeated, but this time self-destructed in hopes that his explosion would harm Zero and protect his master. Zero escaped, however, and went on to defeat Copy X. After his death, Phantom's Cyber-elf entered the Cyberspace, where he would encounter Zero in his third adventure.
If Zero entered Cyberspace in the Sub Arcadia Level, a secret door would appear that would lead him into a confrontation with Phantom. In Cyberspace, the world where all data is sent along with Reploids after death, Phantom learned all truths about the past. He claimed Zero never had the strength within him to be a hero. However, after being defeated by Zero, Phantom realized Zero's power and encouraged him to cross blades with Omega to prove himself once and for all.
After his battle with Zero, Phantom met up with Cyber-elf X, with whom he went to help the two guardians, Fefnir and Leviathan, who were reaching critical state from their battle with Omega earlier on in Mega Man Zero 3. X helped the two recover, as Zero started his battle with Omega, convincing them, and later Harpuia, to help Zero. Phantom didn't appear to help, due to his status as a Cyber-elf. The other Guardians were destroyed by Omega's explosion, but Zero was protected by the Dark Elf, who shielded him from the blast with her own body.