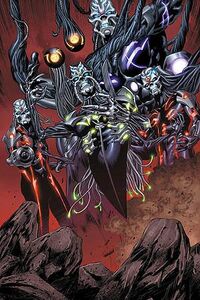 The Phalanx are techno-organic beings, who's nervous systems are composed of organic circuitry. Their body's are structured like machinery,and the entire race has a single collective consciousness.
History
They infect people with the transmode virus which converts them into the Phalanx collective. This evil race was born when scientists experimented on the remains of the New Mutant Warlock, who is a member of the Technarchy, a society of techno-organic beings. Technarchs feed by using the transmode virus to convert organic life forms into Phalanx and then draining their life away.
Recently, during the events of Annihilation, the corrupt robot Ultron was assimilated by the Phalanx, but he was so intelligent and advanced that he took control of them, become their king. The Phalanx accepted this, and worshiped him.
Gallery
Ad blocker interference detected!
Wikia is a free-to-use site that makes money from advertising. We have a modified experience for viewers using ad blockers

Wikia is not accessible if you've made further modifications. Remove the custom ad blocker rule(s) and the page will load as expected.