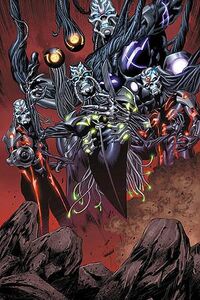 The Phalanx are techno-organic beings, who's nervous systems are composed of organic circuitry. Their body's are structured like machinery,and the entire race has a single collective consciousness.
History
Every race feeds in its own way but for the Technarchy's method is particularly convoluted. A techno-organic race, the release of their transmode virus converts organic matter into Phalanx, a collective intelligence life-form. Members of the Technarcy then feed on the Phalanx, draining away their life energy. This evil race was born when scientists experimented on the remains of the New Mutant Warlock, who is a member of the Technarchy, a society of techno-organic beings. The scientists obtained a strain of the transmode virus and injected it into humans, hoping to create a new generation of sentinel robots. Their experiment quickly got out of control. Transformed into Phalanx, their subjects began assimilating other humans. The Phalanx wanted to convert all life on Earth into techno-organic beings.
Fortunately, the Phalanx found mutants to be somewhat indigestible since they could not assimilate their genetic structure, they instead tried to kill them. After capturing a number of younger mutants the Phalanx drew the ire of the X-Men and were almost destroyed. The X-Men succeeded in destroying most of the Phalanx once, but the survivors have since fled into space threatening the Shi'ar Empire. An army of Phalanx once attacked and conquered the Throneworld of the Shi'ar Empire, making its ruler, Lilandra, their prisoner. Gladiator of the Shi'ar Imperial Guard sought the help of the X-Men, who traveled to the Throneworld. The X-Man Beast, devised a means of tearing the machine parts of the Phalanx from their organic parts, and thus destroyed them.
The Phalanx's aims on Earth were furthered by a number of human assistants. Dr. Stephen Lang, who had once built the Sentinels, was kidnapped by scientists and cybernetic-ally linked to the Phalanx. Though he retained his free will, Lang saw the Phalanx as a means for humanity to evolve to a level higher than mutants and decided to eradicate them. X-Factor's enemy Cameron Hodge was assimilated into the Phalanx and helped direct its actions. Notable among the many unwillingly humans to be assimilated was Jean Grey's older sister, Sara.
Recently, during the events of Annihilation, the corrupt robot Ultron was assimilated by the Phalanx, but he was so intelligent and advanced that he took control of them, become their king. The Phalanx accepted this, and worshiped him.
Gallery