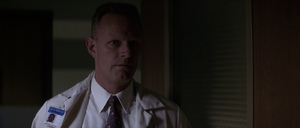 Peter Burrell
was an agent and hitman of the NSA's Division Department, second in command to and under the purview of Lt. colonel
Nicholas Kudrow
, and the secondary antagonist in the 1998 thriller film,
Mercury Rising
.
He was portrayed by Lindsey Ginter.
Biography
Peter Burrell was originally a member off US Special Forces, but was declared KIA in Beirut in 1982.
Sent on a mission from Kudrow, murdered Martin and Jenny Linch, and later Dean Crandell and Leo Pedranski keep intact secrecy of the original MERCURY code after Simon, Martin and Jenny's then-nine year-old autistic son, it violated the code.
It is slashed to death with flying broken glass propelled by a helicopter during a shootout with FBI team led by Tommy Jordan, in IBM Building.
Gallery
Ad blocker interference detected!
Wikia is a free-to-use site that makes money from advertising. We have a modified experience for viewers using ad blockers

Wikia is not accessible if you've made further modifications. Remove the custom ad blocker rule(s) and the page will load as expected.