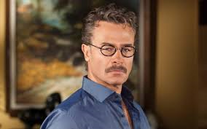 Pedro Medina is the main antagonist of the 2013 Telenovela Lo Que La Vida Me Robo (What Life Took From Me, in English).
Background
15 Years before Lo Que La Vida Me Robo began Pedro was in a car accident with Alejandro, the novella's main protagonist. Because of that accident Pedro lost his testicles, which began the rivalry between him and Alejandro. To make things even worse, Pedro wanted to eventually have children but because of the accident he couldn't anymore. He blames Alejandro for the car accident, but in reality it was Alejandro's father responsible for the accident (which Pedro didn't found out until the series finale). Over the years Pedro plotted ways to get revenge at Alejandro, which would eventually lead to the start of Lo Que La Vida Me Robo.
Trivia
Pedro is portrayed by Sergio Sendel, who is mostly notable for portraying Mexican Villains in Telenovelas.
In the final episode he was arrested by Alejandro's brother in law, Dimitrio De Mendoza, he was then beaten half to death by his cell mates leaving his fate unknown.

This is ironic due to Pedro saying he would rather kill himself than go to jail.