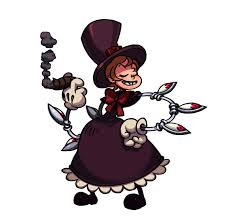 | | | |
| --- | --- | --- |
| " | Time to paint the town red! | " |
| | ~ Peacock | |
Once a war orphan slave named Patricia, Peacock's body was gruesomely mutilated by slave traders that captured her. She was rescued by Dr. Avian's Anti-Skullgirls Labs, and rebuilt with a reality-defying arsenal of biomechanical weaponry: the Argus System augmented her body, and the Avery Unit gave her access to unprecedented weaponry.
Alas, they couldn't do anything for her mind: Peacock's damaged psyche and abiding love of cartoons shaped her new "toys" into a terrifying gang of cronies, who she has no qualms using to paint the town red… with blood. Terrifying as she is, she may be the kingdom's best bet against the Skullgirl.
Ending
After defeating the Skullgirl, which turns out to be her best friend Marie, Peacock destroys the Skull Heart. She and Marie have a friendly conversation before Marie disappears from the world and vows to take revenge on the people who made both their lives miserable.
She was seen confronting the true head of the Medici family and his own secret weapon (Black Dahlia) and the two duke it out.