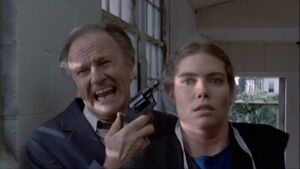 Paul Schaeffer is the main antagonist from the Oscar-winning film Witness.
He was portrayed by Josef Sommer.
Biography
When he's introduced in the film, John Book (the protagonist), is letting him know that according to Samuel Lapp, James McFee is one of the murderers.
When Book runs into McFee in a parking garage, Book is shot and wounded by McFee. Book then comes to the suspicion that Schaeffer is also corrupt and has warned McFee that Book will come after him.
Book tells Samuel Lapp and his mother that they must leave because it will be easier for them to find him, so they go to Samuel's father's farm afterwards.
Eventually, Book gets into a fight with locals who make fun and anger the Amish, and breaks the nose of one of them. This fight is reported to the police by an elderly, and this alerts Schaeffer, McFee, and Ferguson where Book is.
They head to the farm, and then begin to search for Samuel and Book. After McFee and Ferguson are killed, Samuel's mother and grandfather are forced out by Schaeffer. Eli signs to Samuel to ring the warning bell to alert the other Amish who are there, and they come. With many other Amish witnessing the event, Schaeffer gives up and surrenders. He is then arrested afterwards.