Paul Buher is a villain in the 1978 horror sequel, Damien: Omen II. He was played by Robert Foxworth.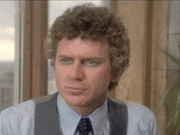 He was the manager of Thorn Industries and a secretly a follower of The Devil. At work, he makes the suggestion to Richard Thorn that the company expands to agriculture and says to him that by focusing on agriculture Thorn Industries will make more money instead of focusing on electronics. But Bill Atherton, the senior manager angrily calls Buher out by saying that buying up land for agriculture is evil and against the law.
The next day, Richard agrees with Atherton to shelve the agriculture project for now and because of Atherton's anger towards Buher, he tries to quit but Richard convinces him to stay and that his time will come sooner or later. Later Buher makes up with Atherton and meets Damien and tells him that their time is coming and it's time for him to put aside childish things and accept who he is and accept his destiny. He also tells Damien his line of work and that he aught to know everything about the business as it will one day be his. The next day they play ice hockey and then when Atherton falls through the ice everyone tries to save him except for Buher.
After Atherton's death, Richard puts Buher in charge of Thorn Industries while he and Ann Thorn on vacation. Buher then sends Dr. Pasarian to try and buy land in India for Thorn Industries, which angers Richard, who warns him not to disobey the rules and regulations of the company again. Then when Dr. Pasarian returns he tells Buher that many people, who refused to sell their land to Thorn Industries, have been mysteriously killed, he decides to let Richard know and orders Dr. Pasarian to look into a malfunction in the company's chemical plant. The next day, Buher visits the plant and sees that Damien is unaffected by the toxic fumes and is accepting his destiny.
Then later Buher attends Mark's funeral, then Damien's awarding of the Officer's Saber, and then the celebration. He spends the next 20 years working for Damien and using his high political status to aid Damien spread chaos and influence politics. Then when Damien is 32, Buher is evidently friends with Harvey Dean and in contact with him. It's revealed that later he converted to Christianity probably after Damien's defeat.