Ad blocker interference detected!
Wikia is a free-to-use site that makes money from advertising. We have a modified experience for viewers using ad blockers

Wikia is not accessible if you've made further modifications. Remove the custom ad blocker rule(s) and the page will load as expected.
Park Cheol-woong
is the self-descried manger of prison hotel in
Oldboy
(2003) when Oh Dae-su was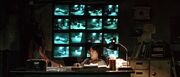 held in hotel room for 15 years and Park met Lee Woo-jin. When Dae-su tracked the place whom he held for 15 years he attacked Park's bodyguards and tortured him by pulling his teeth. Park sought revenge against Dae-su and held Mi-do as hostage. Park tried to pull Dae-su's teeth but Woo-jin stopped him by calling him.
It is revealed that Mr Han chopped Park's hand as gift to Dae-su and Mi-do
Park become reemed villain for help Dae-su for solved the mystery