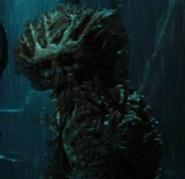 Palifico
was a crewmember serving aboard the Flying Dutchman under the command of
Davy Jones
.
Biography
Palifico´s general appearance was more reef than man, with a fire coral crest atop his head, and a coral-and-bone structure forming a tough exoskeleton on his body. In place of eyes, nose, and mouth, Palifico had a cluster of tentacles and two tube worms sprouting from his eye sockets. He wielded twin barnacle-encrusted blades; a cutlass, and a dao.
After Davy Jones was killed, he along with other crewmembers returned to their human form.
Gallery
Ad blocker interference detected!
Wikia is a free-to-use site that makes money from advertising. We have a modified experience for viewers using ad blockers

Wikia is not accessible if you've made further modifications. Remove the custom ad blocker rule(s) and the page will load as expected.